Ice Fishing Tournament
Saturday, February 6, 2021 (12:00 PM - 3:00 PM) (CST)
Description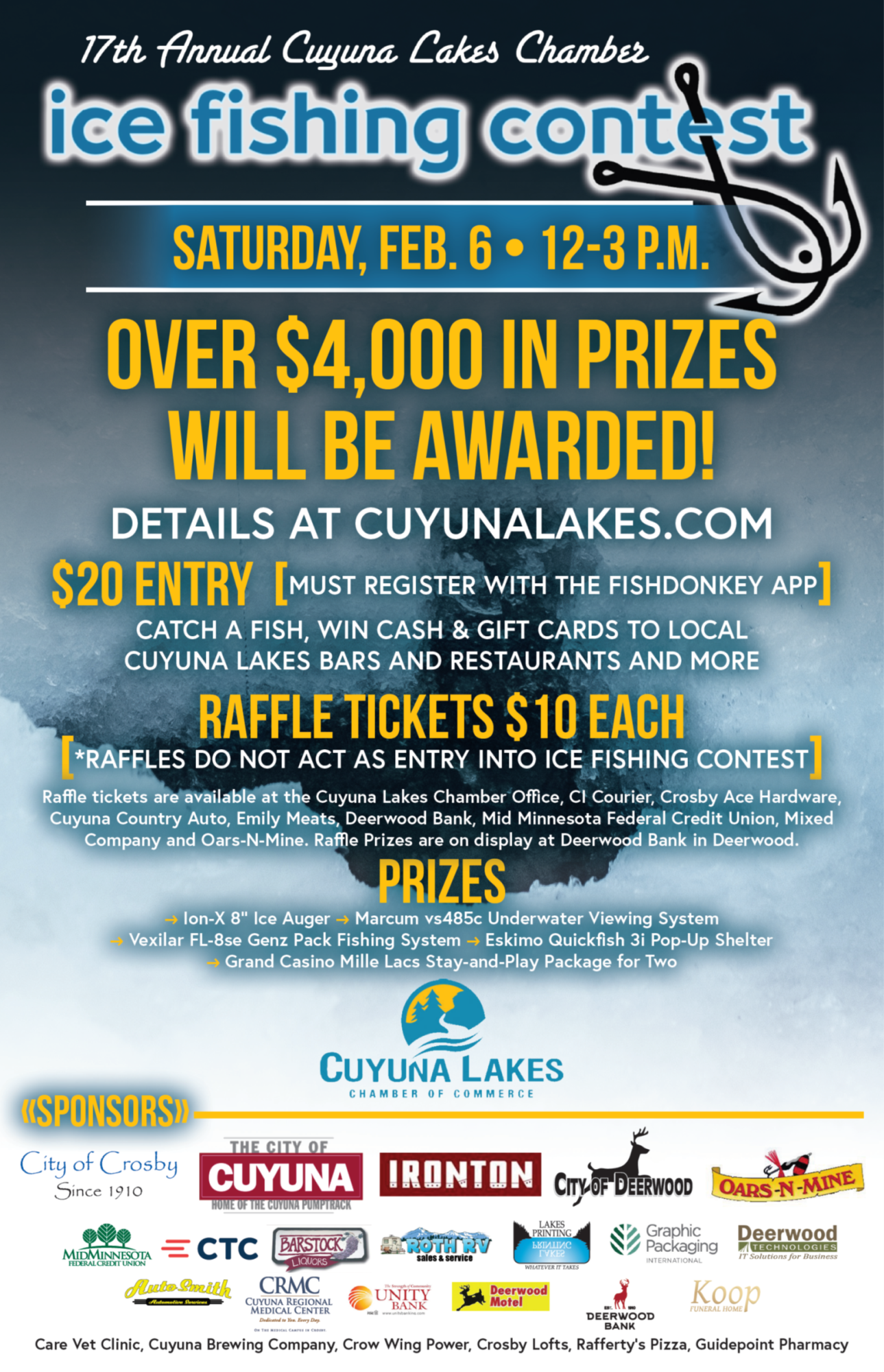 Welcome to the Cuyuna Lakes Virtual Ice Fishing Contest!
Catch a fish, win cash, gift cards to local bars and restaurants, and more! Over $4,000 in prizes will be awarded!


Each participant's largest fish per species will be entered onto the leaderboard, and 45 eligible fish will be selected at random to win a prize after the tournament concludes at 3:15PM on Feb. 6, 2021. All eligible fish registered have an equal chance at winning our 45 prizes.
The size of your registered fish will not increase your odds to win a prize.
Eligible species are: Walleye, Northern Pike, Bass and Crappie.


In addition to a chance at a prize, the three longest fish of each species will receive a 2021 Cuyuna Lakes Ice Fishing Contest Winner's Plaque and a 2022 Cuyuna Lakes Ice Fishing Contest ticket.


Categories and leaderboards will update throughout the contest so check the leaderboards on your phone or on the website to follow the tournament progress.


The Cuyuna Lakes Ice Fishing Raffle makes you eligible for separate prize packages, such as an Ion-X 8" Ice Auger (retail value $459.99), Marcum vs485c Underwater viewing system (retail value $329.99), Vexilar FL-8se Genz Pack Fishing System (retail value $319.99), Eskimo Quickfish 3i pop-up shelter (retail value $259.99) or Grand Casino Mille Lacs Stay-and-Play Package for Two.


Raffle tickets are $10 each at participating businesses through Friday, Feb. 5. Raffles DO NOT serve as entry into the fishing contest. Raffles are available at the Cuyuna Lakes Chamber office, CI Courier, Crosby Ace Hardware, Oars-N-Mine Cuyuna Country Auto, Emily Meats, Mixed Company and Deerwood Bank.
See complete details at cuyunalakes.com. To be eligible for the fishing contest, you must register for the tournament on the
FishDonkey app
, website, or at the Cuyuna Lakes Chamber office (117 W. Main St. Crosby). Registration is $20.
Have fun and FISH ON!
Images
Pricing
$20 registration fee
$10 raffle tickets for a chance to win up to 5 prizes worth over $1,200!
Public Waters

,

MN

United States



The tournament is open to any public waters in Minnesota using the FishDonkey app.
Event Contact
Courtney Condon
Saturday, February 6, 2021 (12:00 PM - 3:00 PM) (CST)
Categories
Recreation & Sports
Community